Here's a look at some of my favorite projects!
Esther Derby – Coach/Consultant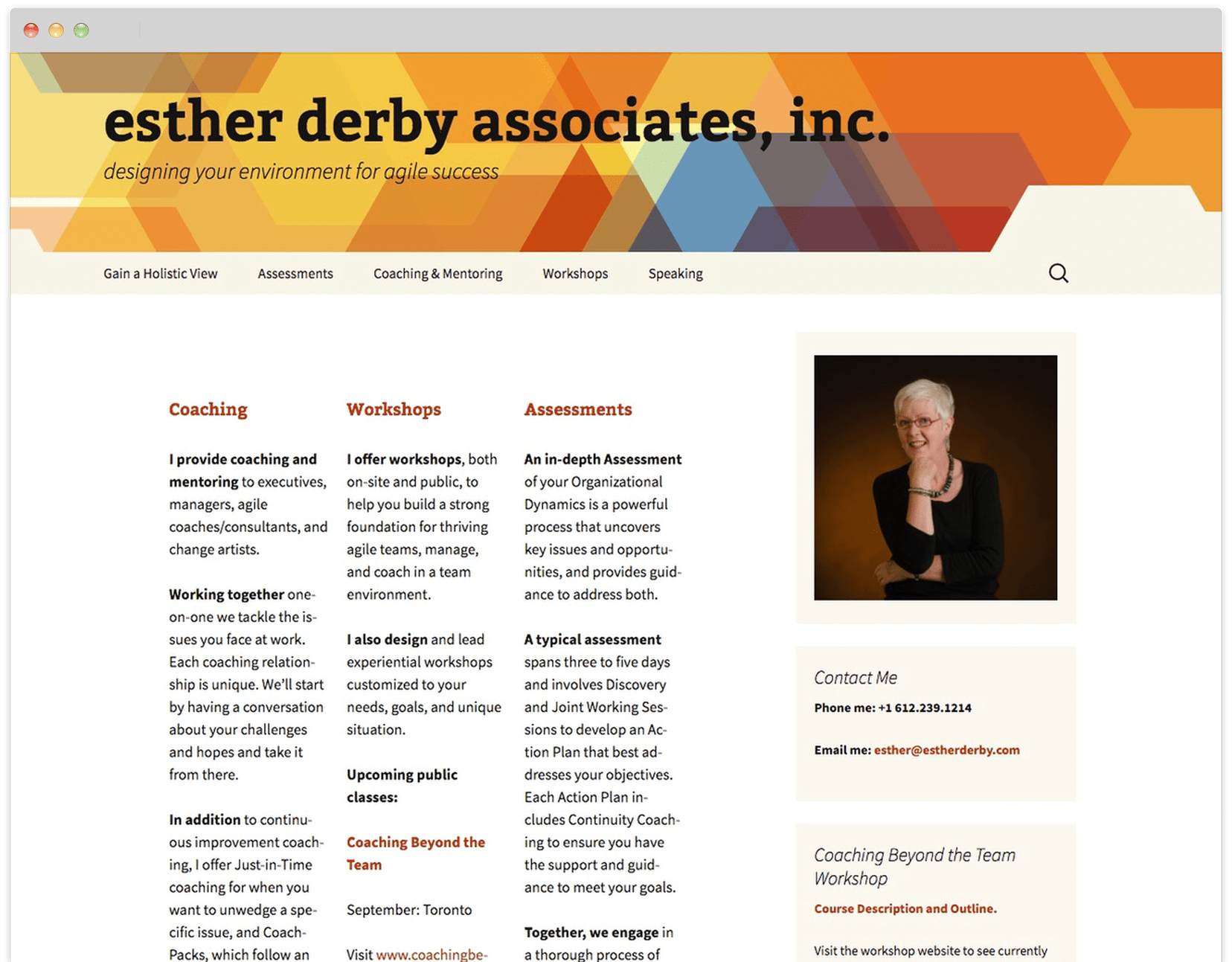 Esther is the definition of recognized expert. She is very well known and highly respected in her field. She travels the world giving speeches and presentation on her subject matter.
CONCERN # 1
While she loves what she does, she had a hard time explaining what she does to others. She needed a clear marketing message.
CONCERN # 2
Her website. It no longer reflected her and she knew it needed to be updated but she no longer had the time to update it herself.
OTHER WEBSITE TROUBLE AREAS
Outdated design
All About Her Business
No Clear Benefit
Unclear Steps to take
Clearly Defined Benefit
It's now clear who Esther helps and how they benefit from her services.
About the Customer
You can tell the page is now about Esther's customers. Not only is the benefit clear but all of the "words" talking about her and her services on the old website have been removed.
Clear Call to Action
There is now one obvious Call to Action all the way down Esther's homepage. Visitors, potential customers no longer have to guess what to do or how to schedule a call with Esther.
Brand Standards
Esther's brand colors and fonts are no consistent throughout her website. Something that was lacking before.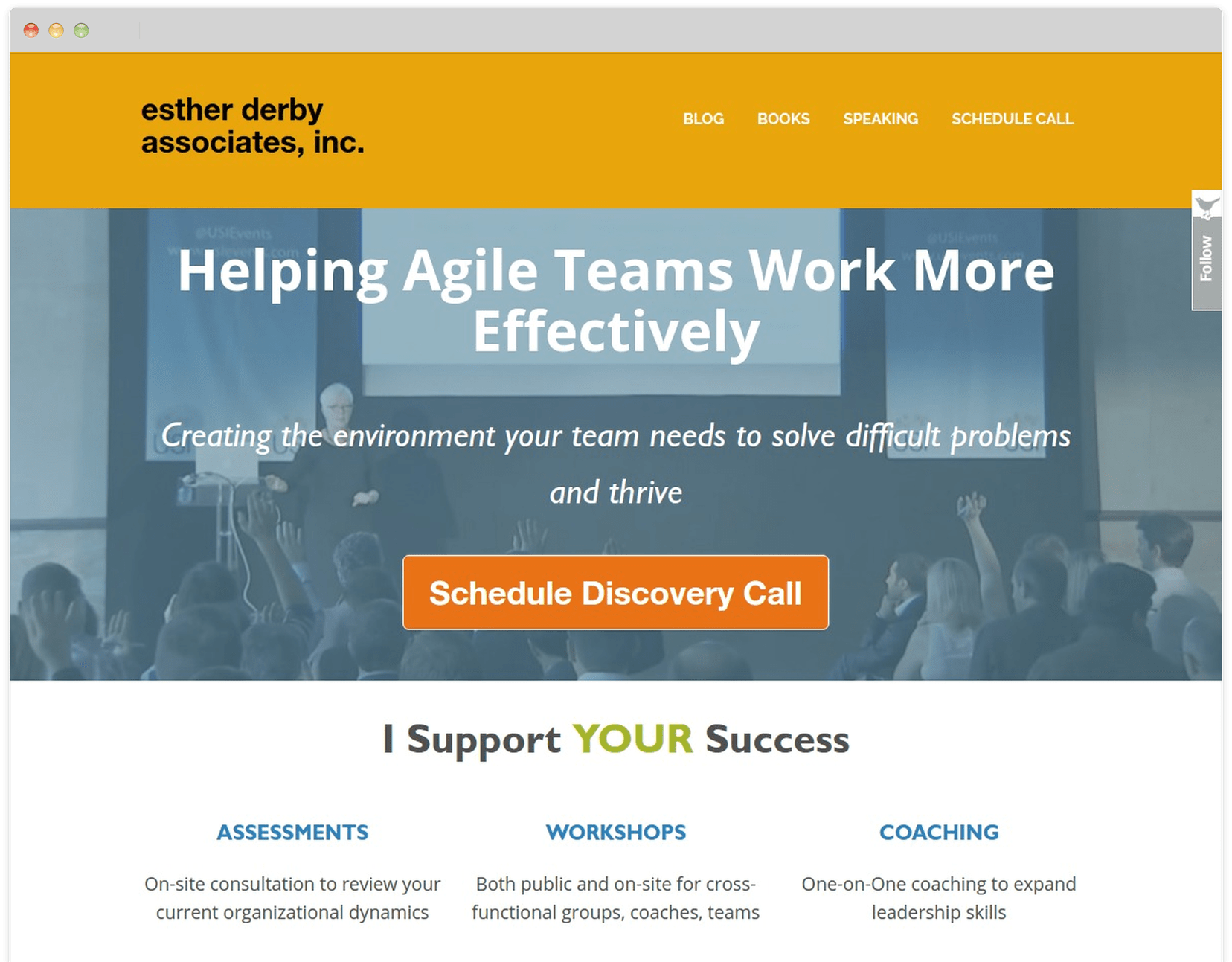 I know the power of story. I use stories in my own work. But, I was too close to my own business to tell the story of the work I do from my clients' perspective. Ryan asked questions, probed, and found the essence.
Ryan was also absolutely delightful to work with!
- Esther Derby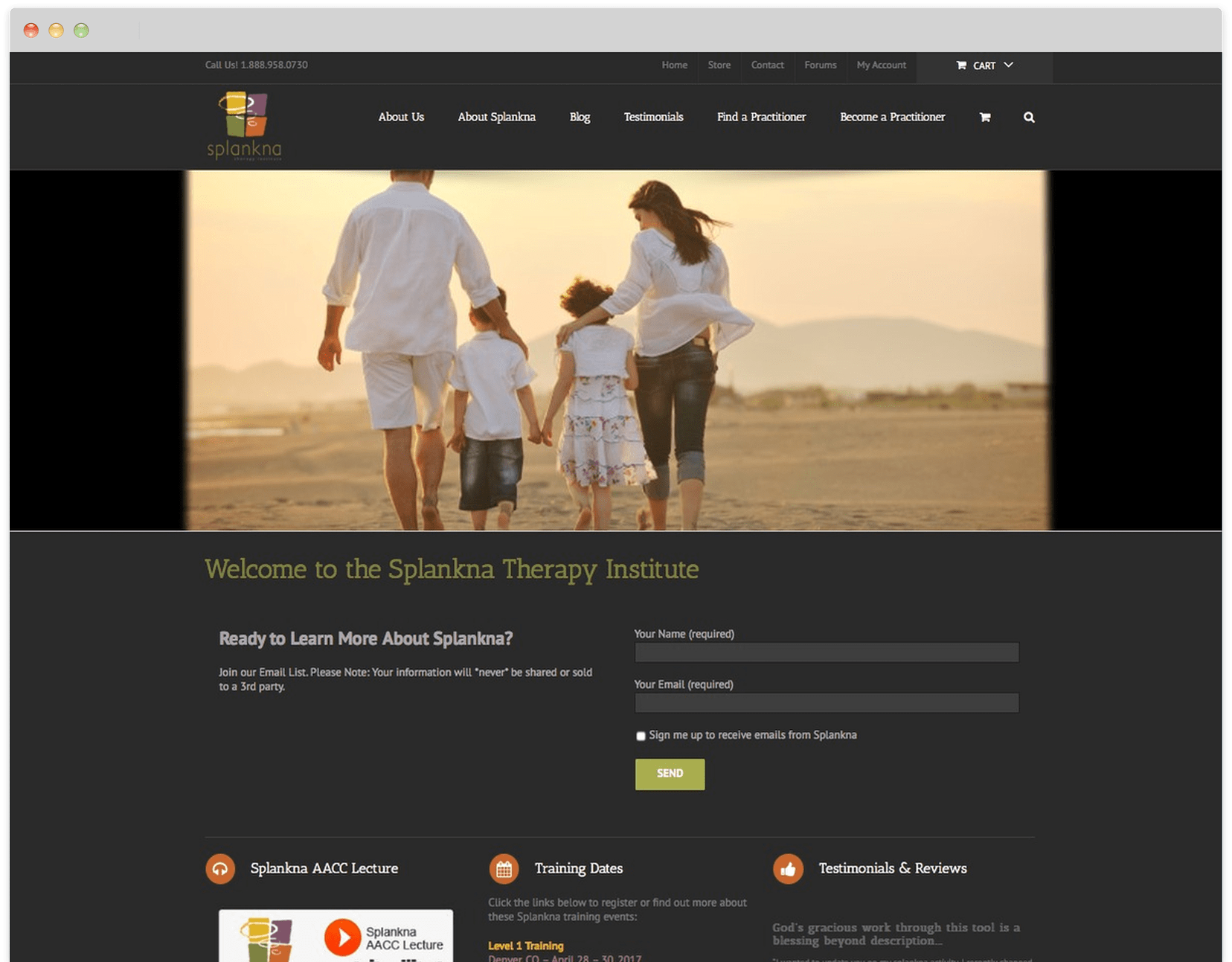 Sarah has developed a Christian healing method that helps many people overcome emotional issues. Like many entrepreneurs, she put up her first website but now lacked the time to update it.
CONCERN # 1
Put simply, the site was outdated. Not to mention, dark. It needed to be updated to modern standards and to match her brand.
CONCERN # 2
We have no idea what Splankna is without digging deep into the pages.
OTHER WEBSITE TROUBLE AREA
Branding Out of Sync
Scroller
"Join My Newsletter"
Unclear Steps to take
Modern Design
Ahh. So much better. The new design incorporates a simple layout with lots of white space. Making it easier to read and follow.
Mobile Responsive
Yes! You can now view the website on any device. Did you know that 57% of users won't recommend a business with a poorly designed mobile?​ 1
Defined Customers
After working through an all-day strategy, it became clear there are two distinct customers; those who want to become a practitioner and those who want to be a client. The website now reflects these two different customers.
Strong Call to Action
Previously, you had no real idea what to do when you visited the site. If you wanted to get certified you had to dig. In order to increase registrations, it's now very clear what to do.
1 https://www.impactbnd.com/blog/mobile-marketing-statistics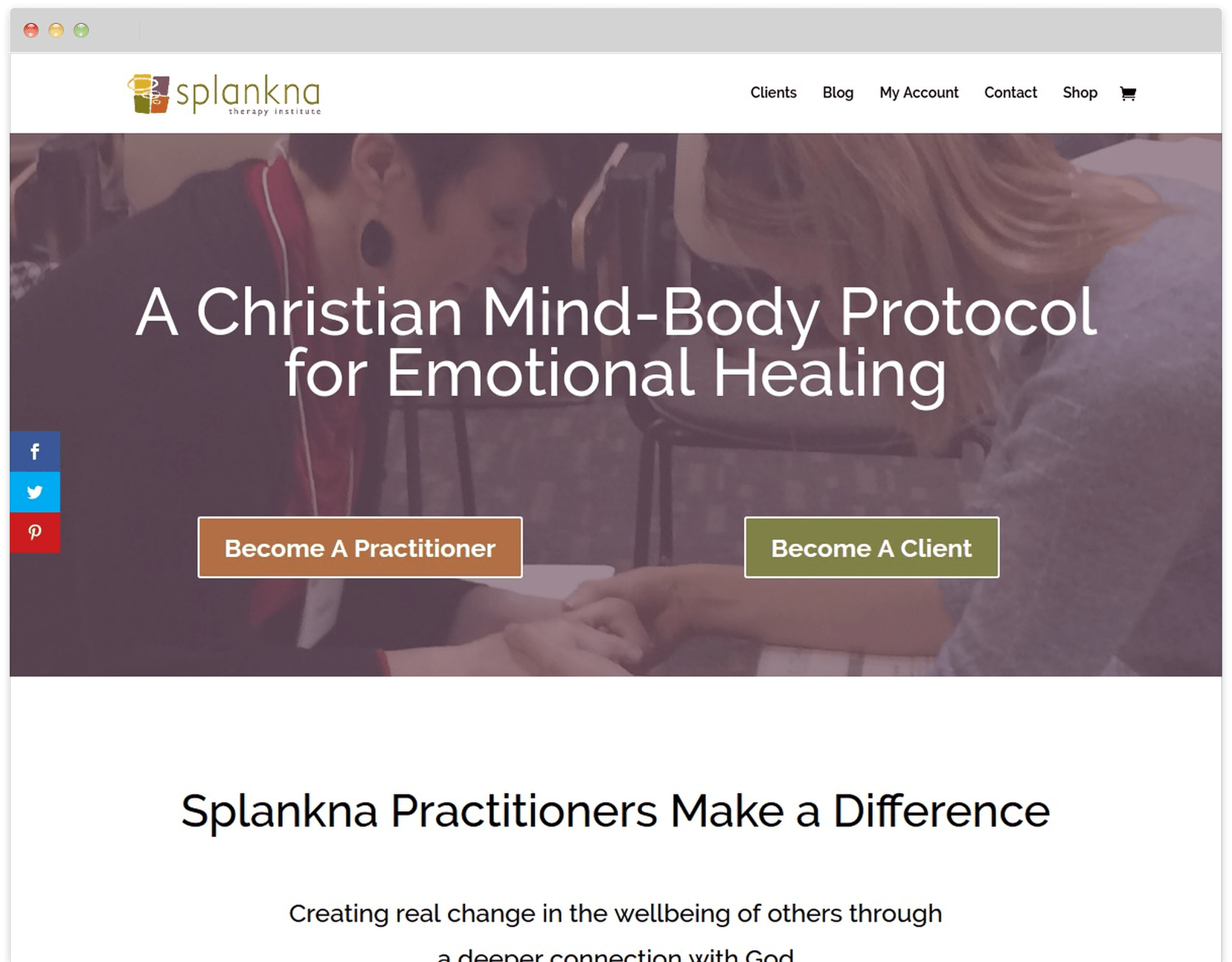 Ryan has been fantastic for our company! He's competent, clear, down to earth and easy to be around. We've tried several different marketing professionals and he beat them all hands down.
Strongly recommend him. You won't be sorry.
- Sarah Thiessen
If you like what you see and would like to speak with me about how we can build your story-based message, click the button and schedule a call.
RESPONSIBLE JANE – NON-PROFIT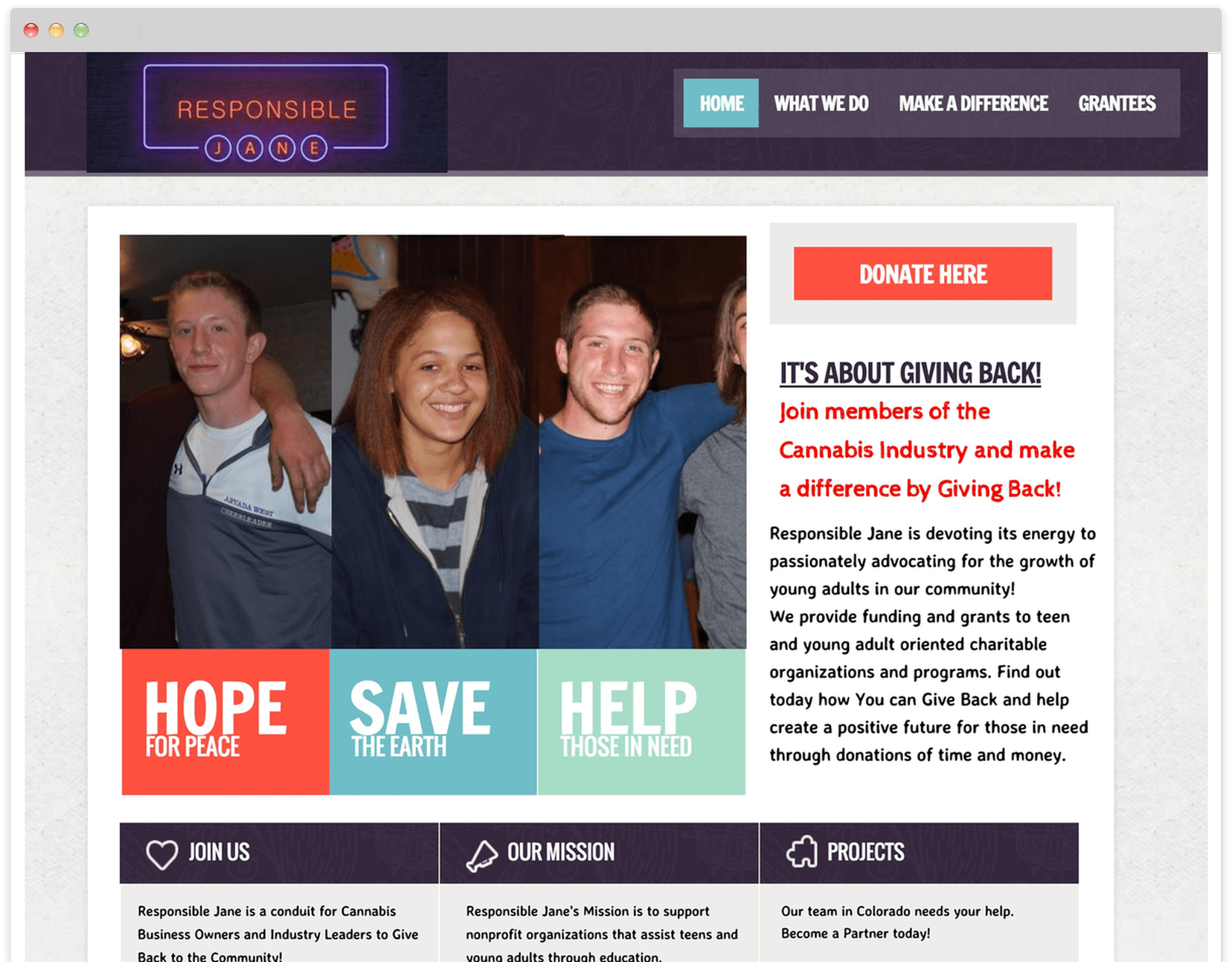 Yevette started Responsible Jane as a way to help business owners give back. While legal here in Colorado, many non-profits would not accept donations from cannabis businesses. Responsible Jane fills that gap.
CONCERN # 1
The website was built using a templated website builder. Very limited functionality which impeded the donation process.
CONCERN # 2
In a word, confusing. Visitors had no idea what the site was about; hope, peace or helping those in need?
OTHER WEBSITE TROUBLE AREAS
Website Builder
Branding not Congruent
Confusing Messaging
Not Mobile Responsive
WordPress
We moved the site over to WordPress so the site can grow with the business as it grows.
Background Image
Images make a big difference on your website. They should always be congruent. In this case, we added a background image in the hero section showing the training classes Responsible Jane is helping to fund.
Brand Standards
Pulling from the logo we implemented a color palette and standardized it throughout the website.
Social Proof
It helps donors feel more comfortable donating to you if they know others have as well. Below the hero section, we added a ribbon of logos from previous donors.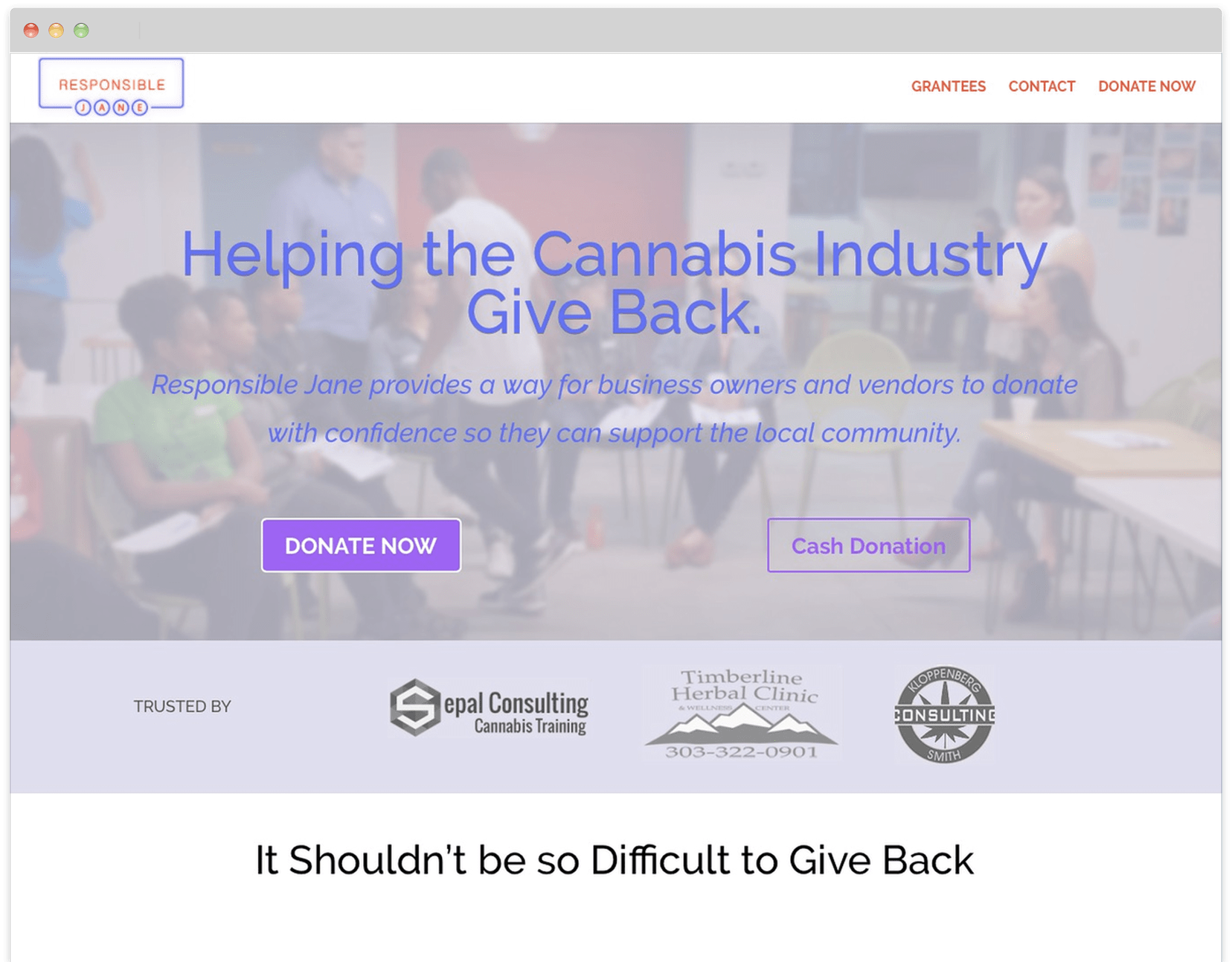 If you like what you see and would like to speak with me about how we can build your story-based message, click the button and schedule a call.
CLICKSANDCLIENTS.COM – INTERNET MARKETING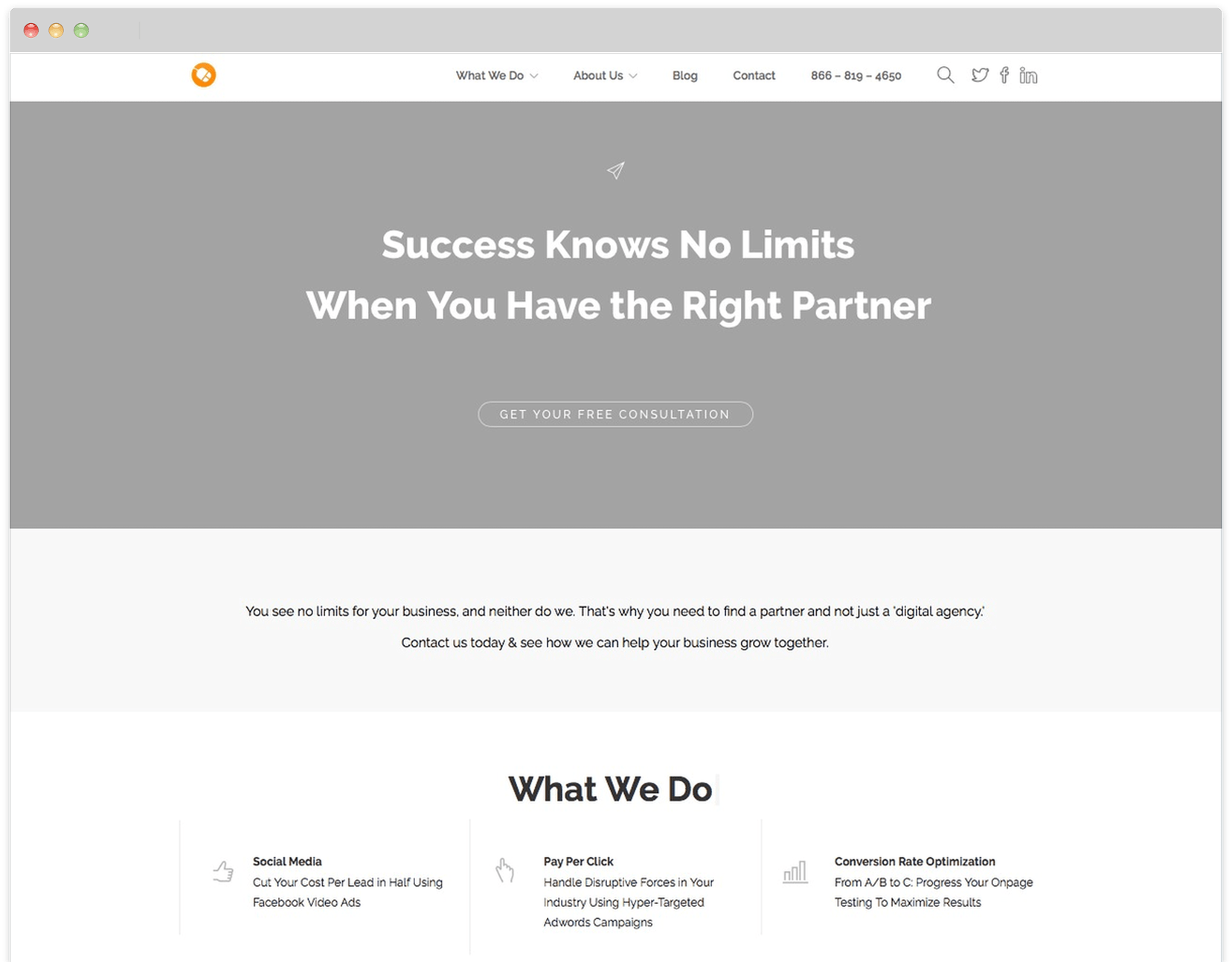 Paul, Clicks and Clients owner, was not happy with his website. As a leader in his field, he felt it needed to better reflect his company. During a half-day session, we clarified the company message and wireframed a new homepage. We eventually worked together to completely redo every page on the site.
CONCERN # 1
Messaging didn't reflect what the company does.
CONCERN # 2
It's all about them. This a classic mistake. We needed the site to inform visitors how they can benefit from Clicks and Clients.
OTHER WEBSITE TROUBLE AREAS
Generic Message
It's all About Them
No Homepage Image
Social Icons at the top
Congruent Branding
The website branding was implemented in a clear and distinct way all over the website. This served to "brighten" the website up and make it more inviting.
One Call to Action (CTA)
One of the goals we wanted to achieve was to provide an obvious way for clients to get in touch. This was solved by adding CTA throughout the homepage.
Social Proof
Social proof, evidence that we have helped other businesses, plays an important role in helping a potential customer decide if you're right for them. Below the hero section, we added a ribbon of logos from previous customers.
Customer Facing
The site now reflects the customer's story as well as telling them benefits of working with Clicks and Clients.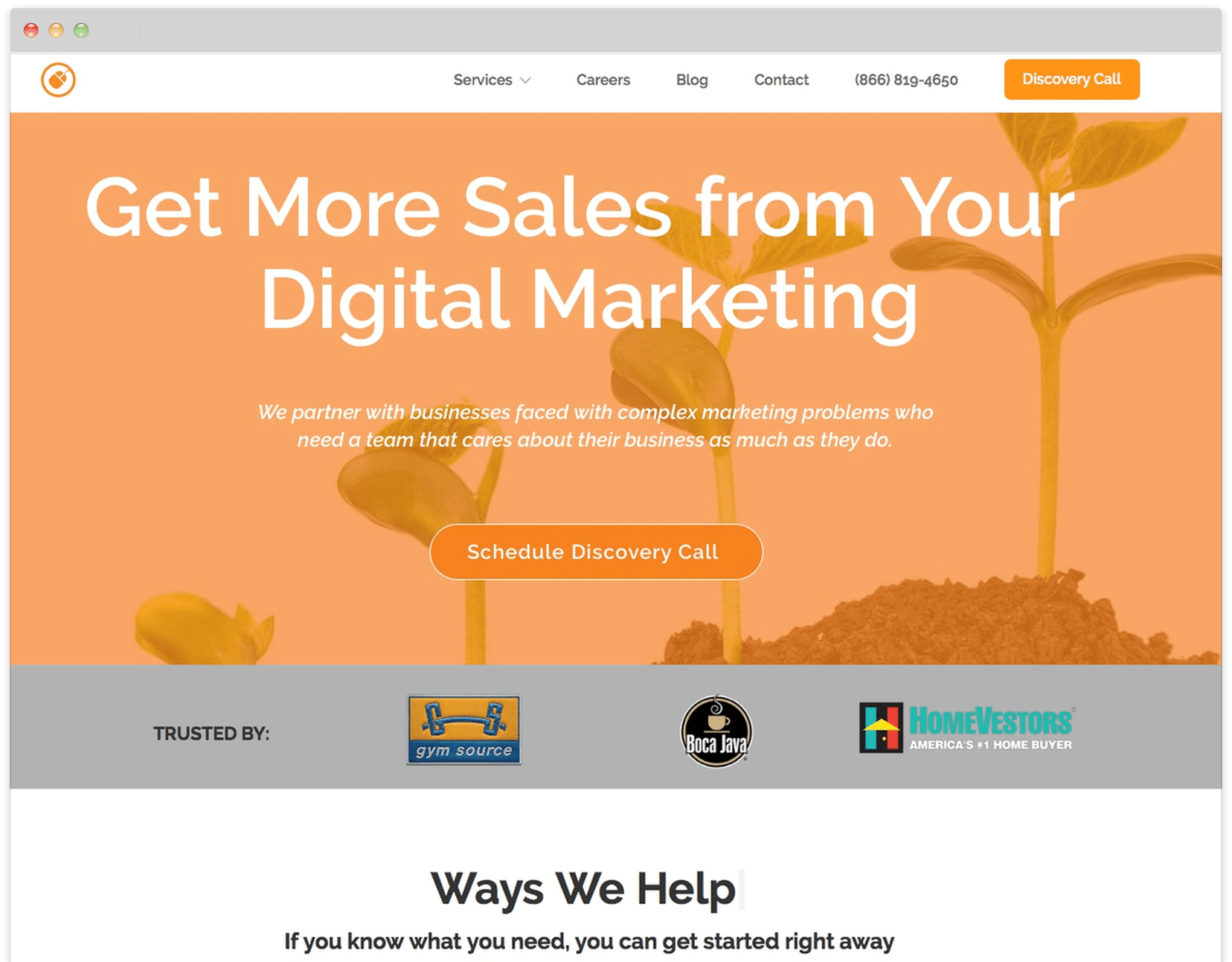 If you like what you see and would like to speak with me about how we can build your story-based message, click the button and schedule a call.
SEPAL TRAINING – CONSULTING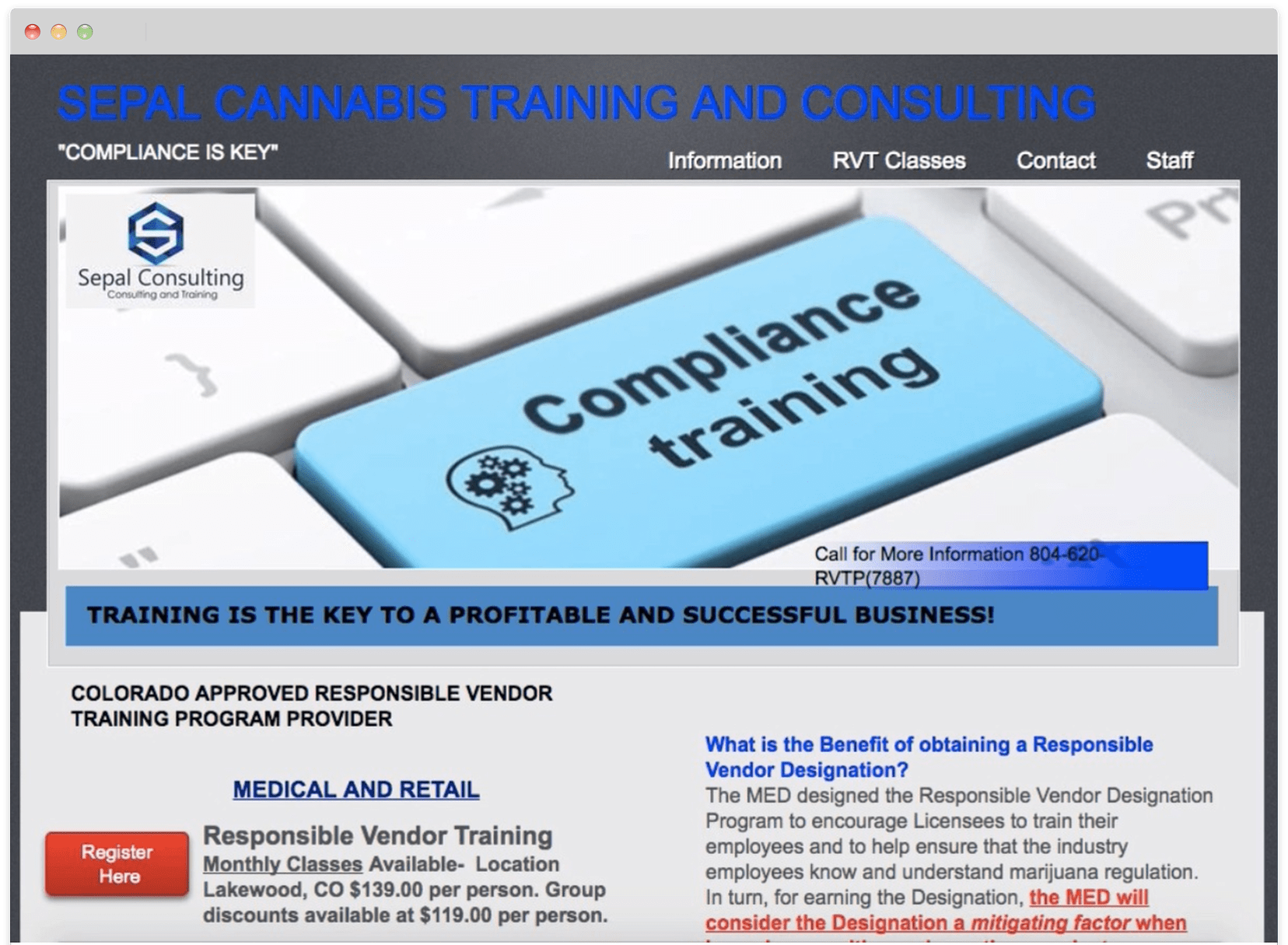 As one of only ten certified trainers for the cannabis industry in Colorado, Gretchen quickly built a site using a website builder. This worked initially but over time the site began to hurt her business, so she came to me for help.
CONCERN # 1
No clear way to register for a class. The button in the image linked to another page with another button, with another page.
CONCERN # 2
Dated and poor branding. Her logo reflected her brand colors, but the website builder didn't allow for the colors to be used.
WEBSITE TROUBLE AREAS
Dated Website with no Branding
No Clear Message
Not Mobile Responsive
Consistent Branding
Using colors in the logo, I was able to create a complementary palette for use throughout the site.
Clear Call to Action
One clear Call to Action (CTA) highlighted with a color that jumps off the page at you. More importantly, it links directly to a payment gateway.
Social Proof
Letting people know you have worked with others, can be as simple as adding the logos of clients you've helped.
Customer Facing
Incorporating elements of their customer's journey into the page tell's a story that resonates as you read down the page.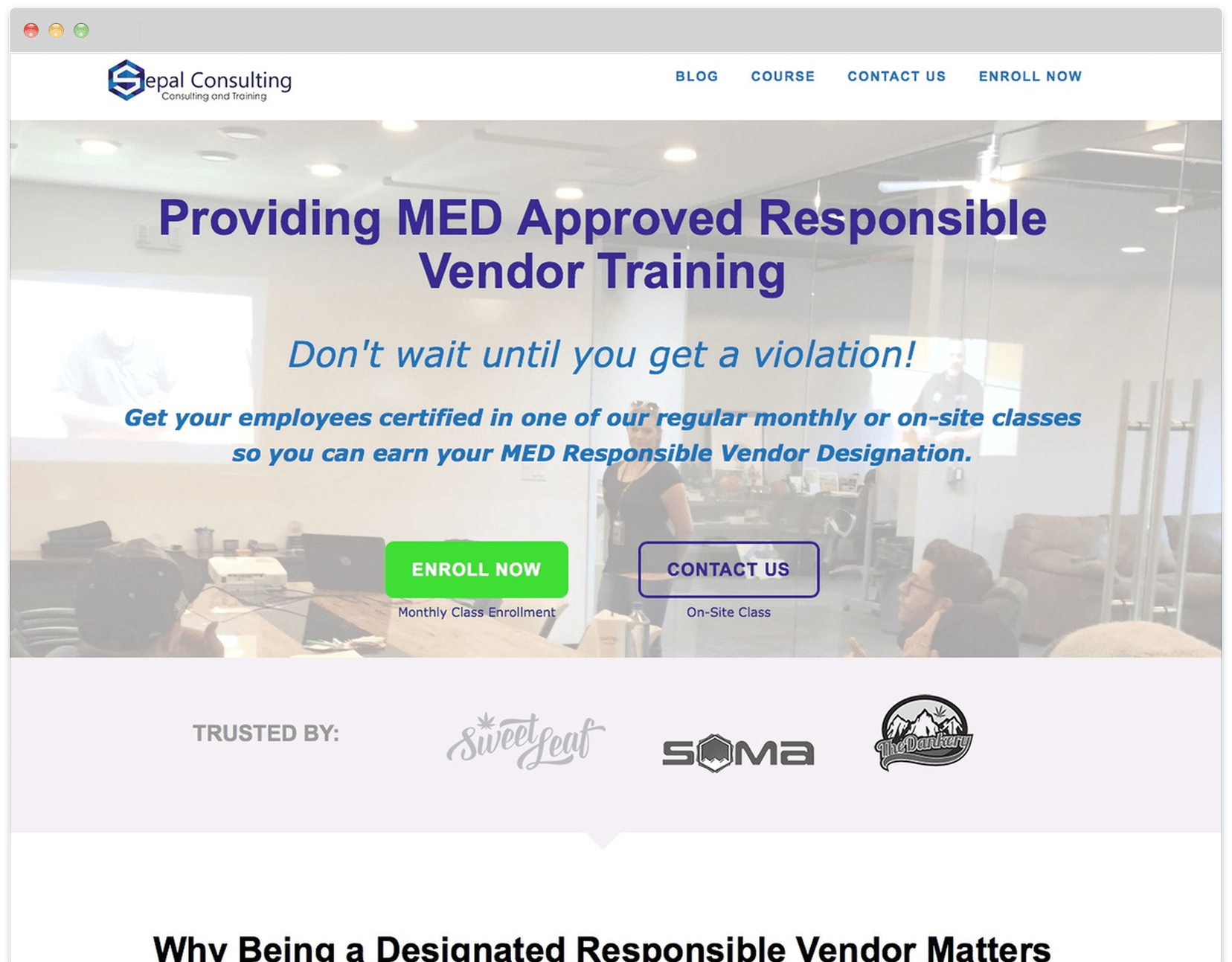 Schedule a call and let's talk about your business, your goals and how you can double your leads in as little as a month.