Connect with and grow your audience
Personal Brand Quiz Score:  75 and Up
Expand your reach and become a trusted advisor by connecting with your audience.
You've done the work and you're starting to get noticed and recognized for your expertise.  Now it's time to amplify your brand by engaging your audience. This requires you to master these three steps.
Grow your network within your niche before you need it.
Use social media the right way to engage with your audience.
Look beyond your platform to grow your audience faster.
Step 1 – Network Like a Rock Star
I get it.  Networking can suck, but If you want to be recognized for your expertise, you have to network.  There is no way around it.
ACTIONS:
1 – Download the Engage Step ebook.
2 – Develop your connection strategy.
3 – Start connecting.
Step 2 – Time to get Social
It's time to use social media for its original intent, having conversations.  For you, this means becoming a Relentless Giver; someone who adds values to conversations without asking for anything in return.
ACTIONS:
1 – Identify and attend two Twitter chats in your area of expertise.
2 – Deploy the Like, Share, Comment strategy discussed in CareerKred.
Step 3 – Expand Your Reach
Social media can do a lot for your brand. However, if you really want to raise your brand awareness, you need to look at some alternatives ways to expand your brand.
ACTIONS:
1 – Comment on the blogs of people you follow.
2 – Answer questions on Quora.
3 – Find and attend t least one conference in your area of expertise.
4 – Create lead-generating pdf
5 – Set up email automation – ConvertKit
Worksheets and Frameworks included in the Engage step ebook.
The worksheets will help you leverage social media to expand your network and engage your audience.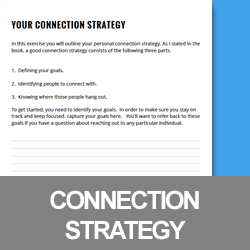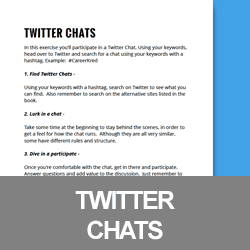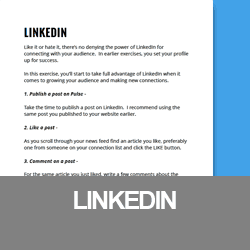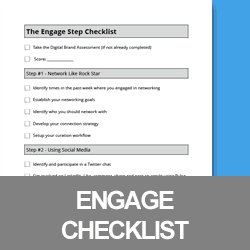 FAQ's for the Engage Step
How do I reach influencers in my field?
The answer is easier than you think.  It does require a little planning and strategy on your part but if done right, you be getting noticed by your industry influencers in no time.
Download the eBook and complete the Connection Strategy exercise.
How do I engage more with people in my industry?
In the same way, you engage with influencers, there really is not much difference.  The exercises that are part of the Engage Step, not only help you build an effective connection strategy but they will also help you become much better at social media.
Which social media should I use? There are so many.
I glad you're thinking social media.  Proper use of social media allows you to accelerate your efforts in the Engage Step. To get started, I recommend using no more than two platforms and if you're a business professional trying to get recognized for your expertise, I recommend LinkedIn and Twitter.
I discuss the hows and whys in the eBook. Thought leadership is something that gets batted around quite a bit today. It's the natural side benefit that comes from positioning your brand through content.
As a content producer, you will share your thoughts and insights on your field of expertise. This will help people get to know and like you. The more content you produce the more people will turn to you as the expert in your field.
Don't struggle with the Engage step. Get the book!
"We all have a personal brand. Regardless of whether you're a CEO or a business professional, CareerKred shows you the exact 4 steps everyone must go through to build your brand online.
…Even if You Don't Know Where to Start!"