Integrate Your Brand Online
Personal Brand Quiz Score:  26 – 50
Get Found Online for What You Want to be Known for
Integrate Your Brand Online
Getting found online shouldn't be so hard.  And the truth is, it's not if you know how to use today's technology to build a comprehensive digital brand. Getting found in search results starts by mastering these three steps.
Tell your story online don't let Google tell it for you.
Build your website and get found in search results.
Connect your accounts to create a cohesive online brand.
Before you start building your digital brand, you need to develop your story. 
ACTIONS:
1 – Download the Integrate step ebook.
2 – Develop Your Career Bio
Step 2 – Build Your Online Hub
To get found online you need a personal website you own and control. It provides you with a place to demonstrate your expertise and is critical to becoming a recognized expert.
ACTIONS:
1 – Buy Your Domain and Hosting –Bluehost.
(To help, I've created a step-by-step video to walk you through the entire process.)
2 – Set up your website.
3 – Sign up for a free course on how to use the system at careerbranding.academy.
To build a comprehensive brand, you also need to build out and link your other digital assets to your website. This helps Google know all of your sites are tied to you and your brand.
ACTIONS:
1 – Build out your digital assets.
2 – Set up your personal brand landing page on About.me
Worksheets and Frameworks for the Integrate step ebook.
The worksheets in the ebook are designed to help you establish a comprehensive brand online.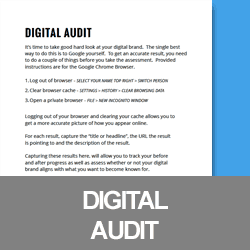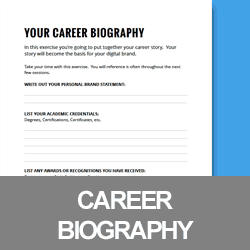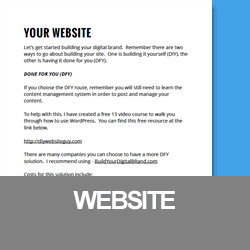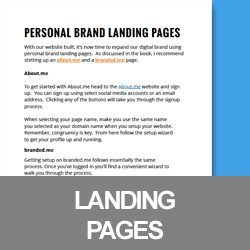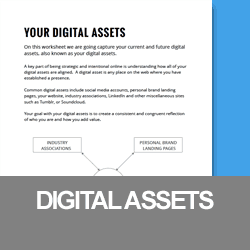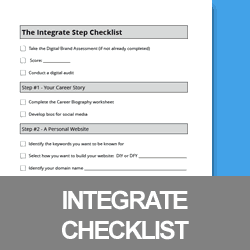 FAQ's for the Integrate Step
How do I get noticed when I apply for a job?
This is a common question, especially among job seekers.  According to a study by Jobvite, a recruiting software company, 92% of recruiters will check your online profile (digital brand) before they decide to call you.
This means if you want to get noticed and more importantly stand out from your competition, you need a website.  I recommend using a company called Bluehost for both hosting and purchasing your domain.
Download the integrated step ebook to get started.
Do I need a personal website?
Technically, no, but the answer really depends on your career goals.  If you're happy with your career then, no, you probably don't need a website.
However, if you want to increase your visibility and finally get recognized for your expertise, then yes, you need a website.
How do I get my name to rank higher in Google?
I love this question.  It means you're thinking about your digital brand.  There are two ways to get your name to rank higher in Google.
First, create content.  Second, create a website using your first and last name as your domain. For example, ryanrhoten.com.
When someone types your name into Google, if you have a website you update regularly with content and you use your name as the domain, you are sure to get ranked higher.  Just watch out for those who share your name!
How do I build a comprehensive digital brand?
Another great question. A comprehensive digital brand starts with having a comprehensive strategy.
Without a strategy, you end up with bits and pieces of your online presence scattered about on the web.  This helps no one, especially you.
Download the Integrate Step ebook, work through the exercises and when you reach the end, you will have developed a comprehensive digital brand.
Struggling with the Integrate step? Get the book!
"We all have a personal brand. Regardless of whether you're a CEO or a business professional, CareerKred shows you the exact 4 steps everyone must go through to build your brand online.
…Even if You Don't Know Where to Start!"