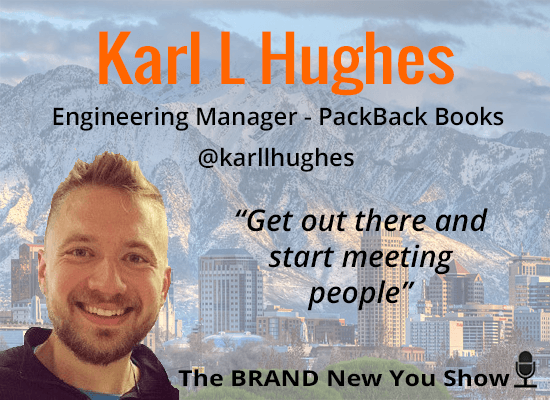 Today we welcome to the show Karl Hughes the founder of job brander.com
Karl is a technology entrepreneur whose specialty is online publishing and marketing. In addition to job brander.com, he also runs two other websites; his own personal Karllhughes.com and the Casual Kook.com where he shares vegetarian recipes as well as his thoughts on fitness and running.
As if that wasn't enough Karl is also the fourth employee and engineering manager for the start-up company PACKBACK BOOKS – The "pay per view" text book company that let's students rent textbooks for as little as $5 day.
PACKBACK BOOKS
PackBack books is Karl's main job.  He was Packback's fourth employee.  Packback rents books to college students for as little as $5 a day.  You can also rent to own the books if you are going to use them enough.
You may have heard of Packback because in March 2014 the co-founders appeared on The Shark Tank where they were able to catch investor Mark Cuban for a $250K investment.  Now while America was watching the show as it aired, Karl was behind the scenes making sure the website didn't crash.
Karl and I discuss at length the importance of having a network you can rely on. Karl's network helped him prepare for the founders appearance on the Shark Tank.
We chat about the keys to survival of working in a startup, the myths and how to "survive" the emotional roller coaster that can be a part of the start-up career.  This discussion includes some key differences between corporate life and the start-up life.
Karl and I connected on Twitter after his article titled 7 things startups want in engineers (besides knowing how to code) was published on the career site, THE MUSE.  Karl offers his insight on the value of code schools vs a 4-year degree and a third option which was insightful and not what you would expect.
Networking was once again a big part of the conversation.  The importance of having a network and using a network to be able to advance your career.  Karl tells the story of how he used networking in order to get into the start-up scene.
JOBBRANDER
Karl founded Jobbrander to provide entry-level job seekers and interns with advice and resources to help them break into the workforce and assert their own personal brand. His mission is simple: To inspire and encourage young professionals.
We discuss interviewing and the importance of doing company research before you go into the interview.  We also discuss the value of public speaking which can help people can tell their stories during the job interview to "paint the picture" of how you can help solve a company's problem.
Like all of the other guests on The BRAND New, You show we discuss the importance of keeping up with your network.  You won't believe how many people Karl has on his network list to keep in touch with.
WRAP
The best way to get in touch with Karl.
Twitter: @KarlLHughes
Website:  KarlLHughes.com
Karl left the listeners with this final thought when it comes to your career.
Have fun in your career regardless of whether you work for a startup or a big company.  You are going to spend a lot of time in your job so you need to make sure you enjoy it.
Thank you, Karl, for being on the show.