A guided program designed to help executives and businesses use LinkedIn strategically to capture profile views, prospects, and leads.
I have a profile. Now what?
How do I message people without being spammy?
Should I post content to my personal page or company page?
Are LinkedIn Ads effective?
Should I upgrade my account?
But it doesn't have to be.
With the RIGHT strategy you can make LinkedIn simple
To get the most from LinkedIn, you need a strategy, NOT another tactic. LinkedIn is a longer-term game that is highly effective when you understand the strategies behind the tactics.
Most agencies are happy to sell you tactics. They love your recurring revenue. While this short-sided thinking can lead to short-term gains, in the long run, those gains will leave as quickly as they came because they were implemented withoExit Visual Builderut a solid strategy. 
Introducing the LinkedIn Made Simple Program for Executives and Businesses.
This program is specifically created for busy executives and sales teams to develop and implement a proven strategy designed for long-term success on LinkedIn.
A complete LinkedIn playbook
Messaging for Company Page
Access to an online course with step-by-step videos
Copies of the best selling book - LinkedIn Made Simple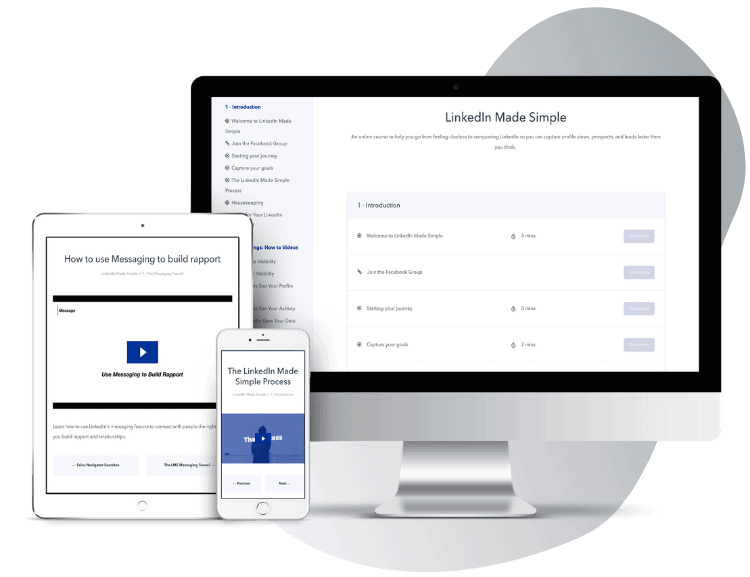 Six 60-minute strategy sessions on the topics that matter most
Search and Sales Navigator
Ready to up your game on LinkedIn?