StoryBrand is a messaging filter
It's a story-based method to craft your message.
StoryBrand is not a marketing plan
It doesn't help you with…
Website messaging or copy
Identifying your audience
StoryBrand is a seven-step messaging filter designed by Donald Miller to help you clarify your message ONLY.
Every story has a protagonist. In your story, your character is your customer.
Without a problem, there is no story. What is your character's problem?
Characters need a guide to overcome their problems. How does your brand help?
No one can overcome problems without a plan. What is you plan to help?
Even with a plan, characters won't move forward. You need to call them to action.
Your brand helps your character avoid the consequences of failure.
Ultimately, your brand helps your customers achieve success.  
A clear message is NOT enough…
After reading the book Building a StoryBrand or Marketing Made Simple, you're convinced, "it's what you need," but as one of
the first 20 certified StoryBrand guides
, I can tell you with 100% certainty after clarifying your message, you will be left asking…
Introducing The Brand Messaging System™
The Brand Messaging System™ fills the gaps created from clarifying your message to a complete marketing program by providing a simple, step-by-step, structured program to develop a complete and repeatable marketing strategy that works.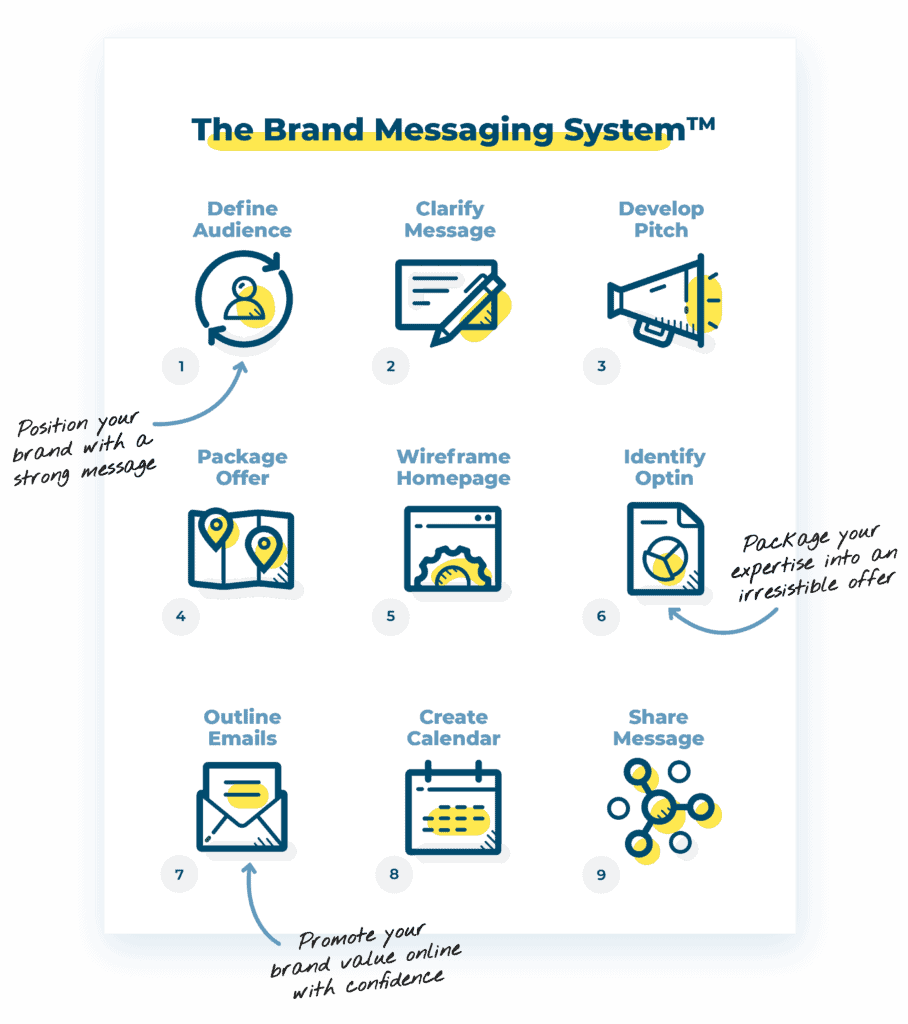 "The program has structure, is simple to follow, and has no "woo woo stuff." I now have more confidence in my marketing as my message and the value I provide to clients is clear."
A
Strong
message people understand
A "visible" product or service
A complete
messaging guide
Emails your prospects want to open
Website copy people actually read
A
sales funnel
that works
A repeatable and structured process
A 3-month
calendar of relevant content
And the confidence to know you're doing it right.
When I first started working with Ryan, I lacked the clarity and strategy to move forward with targeted content relevant to the people I serve. I knew I had perspective they'd find valuable, but I didn't know what to do with it. Ryan walked me through his process, and suddenly things began to "click"! He also drafted copy for my website, worked very collaboratively, and always delivered what he said he would when he said he would. I now have a clear vision for my target audience, the messaging they care about, and a game plan to provide value.
I had a fantastic experience with Ryan. I was struggling with my company's overall messaging and how to communicate with my customers. Ryan helped me to understand my customer base and worked with me to clarify my company's overall messaging. My new marketing message has separated my company from the competition. If you are struggling with your company's messaging and marketing, I highly recommend working with Ryan. It was one of the best business decisions I have ever made.
The Brand Messaging System™ Helps You…
Design a workshop or online course
Create a comprehensive brand story.
Know how to use your clear message.
Have confidence in your marketing.
Create a repeatable marketing system.
"I've gone through multiple biz courses and spent years trying to "crack the nut,"  because I knew there was a piece I was missing. Ryan helped me find that piece in a few weeks. I would've saved lots of time if I would've started with him. Now, I have a process, I can speak and present what I offer with a flow that is clear to the client. The future is once again bright and possibility filled."
When I met Ryan, I was overwhelmed with my marketing and not attracting new clients outside of referrals. My website was outdated and my message was all over the place. I didn't know how to talk about my passion without getting too excited and potentially losing people. This program was exactly what I needed. The program has structure, is simple to follow, and has no "woo woo stuff." I now have more confidence in my marketing as my message and the value I provide to clients is clear. I know how to talk about my business now without using too many words and staying centered.
How does StoryBrand help?
StoryBrand gives you a simple framework to focus your message on your customer. Unfortunately, it does not help you with the next step in the process which is what do you do with your message. 
Will StoryBrand help build a marketing plan?
No. StoryBrand is a messaging filter only, it does not help you market your brand. 
Are you a certified StoryBrand Guide?
Yes. I am one of the first twenty guides certified and I have helped well over 100 clients clarify their message and use it to create their overall messaging?
Do you help with create BrandScripts?
Yes and No. I realized early on (I was one of the first twenty certified guides) that developing a BrandScript only was not enough.
The key is implementing your BrandScript the right way into your marketing. I'd actually be doing you a disservice if we only developed a BrandScript. Realizing this I no longer od BrandScripts only.
Instead, I help you develop a complete marketing system using the StoryBrand framework for a fraction of what you'll pay to do the same with other StoryBrand guides. 
Why should I choose you?
Here's my guide pitch. I am one of the first twenty guides trained (authority). As such, I have helped over a hundred clients clarify their message, so I understand exactly what you are struggling with right now (empathy). 
Clarifying your message is challenging on your own because you're too close to what you do. Trying to see your business the way your customers do is literally, like trying to see the forest for the trees. No matter how hard you try, you'll struggle to pull the right message from your head.
You need an experienced guide, an OG, who has worked with people from various industries – not the same one – who can help you find the essence of your message so you can tell your brand's story and change the world, one client, at a time.