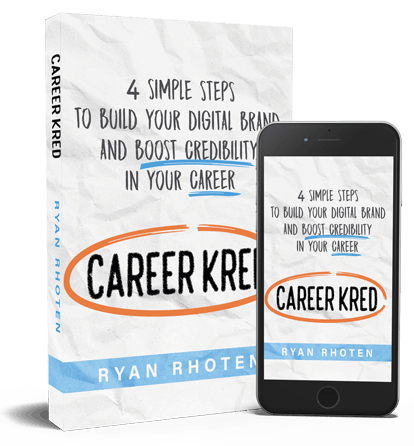 Build Your Brand in Four Simple Steps
Your online presence builds trust and credibility in addition to helping you get found, and recognized for your expertise.

Business Executives - CEOs and C-Suite
Do you struggle to explain what you do to others in a way that makes them listen? Learn how to position your products/services into the lives of your customers.

College Students
Wouldn't it be nice to have a job offer before others in your class?  Taking the time to build your digital brand while in college will separate you from other candidates and at the same time boost your CareerKred in the eyes of potential employers.

Career Changers
You know it's time for a change but don't know exactly how to make it happen. Following the DICE process will help you build CareerKred in your new career so you never have to hear the words, "You don't have enough experience" from employers ever again.

Coaches
You got into coaching to serve others and credibility plays a huge role in securing clients. Learn to use your digital brand to build your credibility so you can serve more people.

Job Seekers
This is not a how-to job search book.  However, if you follow the steps of the DICE process, your digital brand will help you get found by recruiters and help you stand out from the crowd by boosting your CareerKred.

Freelancers, Side-Business Builders
Building a business is tough enough but it can be done.  Building your digital brand will help you attract the right kind of clients while at the same time boosting your CareerKred.
"It's a no hold's bar look at your brand"
Ryan takes an overwhelming topic and breaks it down into an easy to understand system that works. His guidance has been invaluable in building my own brand.
Ryan's DICE process creates an easy-to-use method for building your digital brand. He also does a great job of helping folks understand the importance of taking control of their digital brand, which is critical in today's digital-first world of employment.
Career Kred is not only a must-read for folks striving to build their digital brand, it is also a must-have in any career coach's toolbox. Highly recommended folks – GET IT!
I really love his notion that there's a huge difference between "brand" (current state) and "branding" (what you're actively doing). My work sits near the concept of personal brand. Although it's a different type of professional development, I still meet people constantly who pay no conscious attention of their personal brand until they're actively looking for a job. And really, that's too late. Ryan makes it approachable and interesting when you don't need it so that it can serve you when you DO need it.
This is a must read and must implement book for anyone wanting to improve their professional profile need it.
How you show up online could make the difference between getting your next opportunity or losing it.