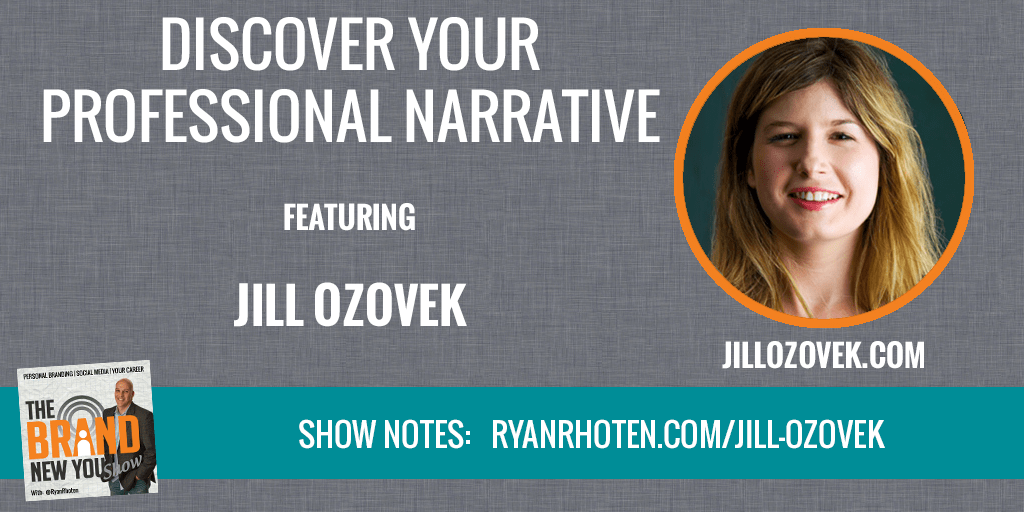 Jill Ozovek, is the founder of Jill Ozovek Career Coaching.
As a career coach, Jill partners with millennial and mid-career women to help them find and develop careers that align with their passions.
But this wasn't always the case.
The first part of Jill's career was spent as a corporate employee where by the age of 26 she had been promoted to head of a division, with a multi-million dollar budget.
As you would expect from a position like this, it came with high responsibilities and equally high expectations.
Unfortunately, or fortunately depending on how you look at it, it was those expectations that challenged Jill's values and eventually led her to make a life-changing decision one evening after she caught a glimpse of her reflection in the window of a subway car.
JILL OZOVEK'S CAREER JOURNEY
Like the rest of us, Jill started her career as a corporate employee and steadily worked her way up the career ladder.
Shortly after the financial crisis of 2008, Jill found herself in charge of the strategy and team for a business with a $13M annual budget.
This is where Jill got her initial exposure to career development with her direct reports. Unfortunately, this was only a small portion of her overall job.
As you can imagine with a job like this the responsibilities and expectations were as big as the role and over time they began to wear on Jill.
Through a culmination of events, including leaving her house to go to work in her slippers, Jill knew it was time for a change when one day she saw a reflection of herself in the window of a subway car.
Rather than continue, Jill decided then and there it was time for her to let go and change her position in life.
JILL OZOVEK CAREER COACH
Jill put a plan in place, gave her employer plenty of notice, left on good terms and headed to Argentina.
While there Jill spent a lot of time "soul-searching", reading reflecting, and volunteering. While she enjoyed her time in Argentina, she knew all good things must come to an end and this how she found herself in front of a computer one day searching for the very same type of jobs she had when she left home.
This made her think she couldn't be the only one who has done this but she also realized she had no idea really, what she wanted to do.
So do you do when you need information today? Jill turned to Google for her answer and Googled the phrase "How do you figure out what you want to do when you have no idea" and started reading articles.
The articles lead to her finding and completing various exercises. With each exercise, Jill was connecting more and more dots.
It wasn't until she saw a post on Facebook by a former colleague at work who had just started a coaching business that the lightbulb went off.
It was like all of the dots connected at once. Jill knew coaching was her path. When she got back to New York, she went back to school, got certified and launched her business initially as a side hustle. In 2015, Jill became a full-time coach.
YOUR PERSONAL / PROFESSIONAL NARRATIVE
Through her own experiences, Jill has developed a process she now uses with her clients. The process is captured is a worksheet she calls the Personal Narrative.
The personal narrative is what she uses to help her clients connect the dots, not only for themselves but for other as well.
The personal narrative gives you clear and concise messaging for you and your brand. The narrative when complete provides her clients with confidence.
The personal narrative consists of the following things.
Personal branding statement
Competencies
Proof/Backup
Personality
Goals
Putting it all together
You can get a copy of Jill's form by signing up for her email list HERE.
One of the goals of the worksheet is to get people to understand the value or benefit they provide to their company.
To get there, Jill usually starts her clients off by helping them understand their skill set first. From there, she moves into the benefits your skill set provides to the company.
Another interesting thing Jill does with her clients is to review their work reviews. You save yours don't you? The reviews can help you see your professional progression and the benefit you provided to the company.
This is a great place to identify the value you added to a company. These can become bullet points on a resume or a story to talk about on your LinkedIn profile.
Another exercise Jill takes her clients through is what she calls the 5 peeps exercise. This exercise requires you to ask 5 people in your life, 3 professional, 2 personal and ask them what they think you do well and what they admire about you.
This exercise very closely mirrors the exercise I went through with my trusted advisors.
JILL OZOVEK'S 30 DAY CAREER CHANGE BOOTCAMP
Jill launched the 30-day career change boot camp in 2015. The course is designed more for the DIY'er. She provides all of the exercises and worksheets she uses with her one-on-one clients.
The course takes you through Jill's career change process in 5 phases.
Reflection Phase
Dreaming Phase
Explore Phase
Narrative Phase
Job Search Strategy Phase
The goal of the boot camp is to provide you with everything you need to put in place your plan for your career change.
THE BEST WAYS TO CONTACT JILL OZOVEK
The Best ways to get in touch with Jill are listed below.
Web: http://www.jillozovek.com
Twitter: @jozovek