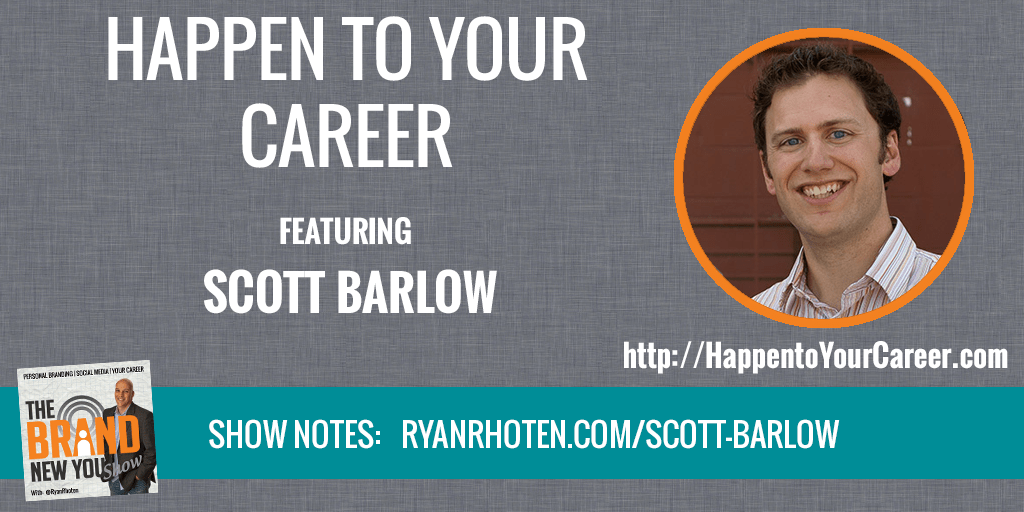 Scott Anthony Barlow is the founder of HappentoyourCareer.com
At Happen to Your Career, Scott helps business professionals stop doing work that doesn't fit, figure out what does then strives to make it happen within their careers.
He has been helping people develop their careers and businesses for over 10 years as a Human Resources Leader, Business Development Expert, and Career Coach.
Scott is also a podcaster with two successful podcasts, the What fits You audio course, and the Happen to Your Career Podcast.
His ultimate goal is to help you find those Ah Ha moments, so you can take control of your career journey and begin living A life.. that is.. unapologetically you!
Scott recently left what many of us would believe was a comfortable full-time corporate position, in order to pursue his true calling of helping others figure out what fits.
His passion and commitment to his students is evident throughout the show.
One of the ways Scott helps his student is with an 8-day email and video course called "Figure it out".
This course was developed by Scott and is modeled after his own journey and the process he used on himself to figure out what best fits him.
HAPPEN TO YOUR CAREER – FIGURE IT OUT
The Figure It Out course is for anyone who is struggling in their career and is not sure where to start or feels a calling to do something different but doesn't yet know what that is.
Scott explains The Figure It Out methodology by comparing it to building a puzzle. Just like a puzzle, in order to figure out your career direction you first need to start with the corner pieces, or as Scott calls them your signature strengths.
There are many ways you can discover your strengths. The StrengthsFinder 2.0 assessment is just one. You may remember my conversation with Lisa Cummings, a Gallup Certified Strengths coach, on the importance of understanding your strengths.
Scott agrees which is why he makes your strengths the corner pieces in your career puzzle.
Once you've identified your corner pieces, the next step in the process is to build out your frame.
This part, in my opinion, is the hardest one and it's one we will all struggle with because it requires us to take an inventory of our lives for maybe the first time.
The email course provides you with several exercises designed to help you walk through and prioritize all aspects of your life including areas such as your environment, your finances, family, personal growth and even your health.
Scott explains during the show how all of these areas may overlap today but by prioritizing them, you begin to turn them into puzzles pieces that fit together in a way to build the complete picture.
The reason this step is so difficult is because it requires you to make decisions and for many of us decisions don't come easy. However, is we really want to make a difference in our lives and our careers, decisions are exactly what we need to make.
Ralph Waldo Emerson once said,
"Once you make a decision, the universe conspires to make it happen."
The same is true in our careers, but how many of you reading this can answer the question, "What do you want out of life and your career?"
If you find yourself struggling to answer this question, Scott's course is for you.
SCOTT BARLOW HAPPEN TO YOUR CAREER WRAP
The Best ways to get in touch with Scott are below.
Website: HappenToYourCareer.com/brandnewyou
Podcast: Happen To Your Career
Podcast: What Fits You