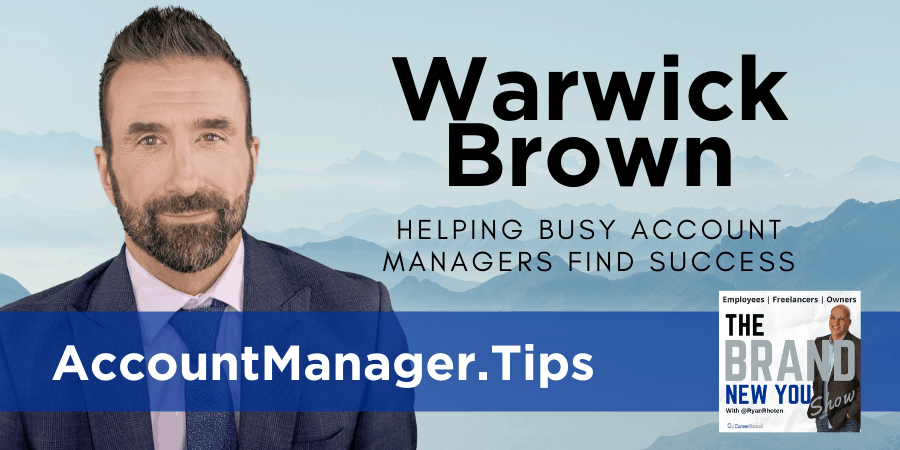 "I was sort of feeling like I'd hit a bit of a ceiling and really struggling to get noticed at my work."
Account Management
Warwick has been in account management for most of his career. Account management, as Warwick explains it, is owning the relationship between you and your customer.
Warwick likes the relationship side of account management even though it is longer-term. When he works with a client, he knows it's a one to ten-year partnership.
During that time, he learns about their business and their objectives. He watches their progress through peaks and troughs when the very successful and when they're cutting costs.
He enjoys helping them through their challenges and winning new business. It's this partnership aspect that drew Warwick into account management.
Career-defining moments
"What do I have to do to get ahead here?"
Like many of us, as Warick moved up in his career, he a couple of defining moments that challenged him to look at his career in a different light.
The first came after he was turned down for a couple of promotions which made him began to think, "What do I have to do to get ahead here?"
The second challenge came during a presentation to his boss. He was recounting the successes of his team, explaining "we've done this, and the team has done that."
During the presentation, his boss stopped him and said, "Where are you in this? You haven't mentioned any of your singular achievements. It's all been collective.
While that's great, if you want recognition and to progress (further in your career), you've got to start to claim some of that success for yourself."
Light bulb moments
As Warwick was contemplating his career, he found across two books, which would open his eyes to other possibilities.
The first book, Branding Pays – The five-step system to reinvent your personal brand, was written by Karen Kang. Karen's book inspired Warwick to begin considering his values, what he brings to my role, and how he compared to his peers.
He also began to ask himself tough questions like "what's my purpose" and "what am I supposed to be doing."
The second book, which moved him to the next step of his evolution, was my book, CareerKred – 4 Simple Steps to Build Your Digital Brand and Boost Credibility in Your Career.
CareerKred helped him advance to the implementation stage by asking "what do I want to be known for?" and provided him with the tactical tools he needed to turn that identity into an executable plan.
Warwick was starting to feel like he'd hit the ceiling and was struggling to get noticed at my work. He credits these two books for inspiring him to take action.
"I was literally just doing a good job, and that does not cut it anymore."
And that's how accountmanager.tips was born.
Exposure a.k.a. Brand Awareness
Warwick's story reminds me of my own. While not as direct as the advice he received from his boss, I was told on several occasions, all I needed to get promoted was "more exposure."
"I kept having managers above me say, you need exposure, you need to get exposure. But no one could ever tell me what that meant or who I needed to be exposed to."
Exposure for employees is what businesses and brands refer to as brand awareness. Without it, no one knows who you are or what you're all about and frankly, very few corporate employee's think about exposure. Those who do, however, are the ones who get promoted.
Like Warwick, I always (wrongfully) assumed that I would be recognized for what I did, but here's a simple truth within an organization if you want to get promoted.
You've got to promote yourself.
As Warwick explained, people in the organization are talking about you anyway, they're doing evaluations and putting you and your peers in a box, a nine-box.
As someone who used to separate my direct reports into a nine-box, I can tell you there's nothing more frustrating then presenting your nine-box to your boss for review, then watching as he or she would change it based their exposure to my team members.
The harsh reality is that your career advancement is mostly based on how well you can:
Talk the talk.
How you project yourself.
How you control your imag.,
How you interact with people.
And of course, the exposure you receive along the way.
Balancing a full-time job and starting a side-gig
To help control his image, Warwick began to build his digital profile while he was a full-time employee.
He got started by putting in a lot of time and effort defining what he wanted to be known for, asking himself the following questions.
What did he want to represent?
What's his point of view?
What are the two or three things that I'm good at?
He was purposeful in how he was going to brand himself, determined not to spray and pray to see what sticks as so many people do on social media.
Once he had a direction, Warwick embraced LinkedIn, Twitter, and dabbled in a lot of the other platforms until he found that the ones he liked. He also started his own blog, writing the odd blog post here and there trying to learn which things would help him attract attention.
"Get a domain name, get your handle across all the social media platforms. Even if you have no plans to use it, claim it."
In addition to his blog, Warwick started writing articles on LinkedIn as well. He found inspiration for his posts by writing about his experiences, his job, his life, and career.
If you're struggling to find content to build your brand, Warwick recommends the following resources.
Quora – Type in your field of expertise and copy and paste it every single question.
Google – Search for your field of expertise and review what people also searched for.
As he got started, Warwick was concerned about what his employers would think if they found out. He eventually landed on this notion that what he was posting was his opinion, and it didn't reflect the views of his employer.
He was not being "inflammatory" with his posts, and he was sensitive to the fact that he worked for somebody else. Not wanting to kill his career, he set a ground rule for himself when posting which was to never post about his industry.
Side-gig to full-time
Over the last couple of years, Warwick has built up a reputation for himself, developed following, and has reached a point where he feels it's time to take the plunge and turn his passion into a full-time gig.
When asked why he didn't do it sooner, Warwick responded,
"I didn't have a social media following. I didn't have content out there. I didn't have social proof, I didn't have search engine traffic, I didn't have inbound traffic. I've grown all of those things over the past few years."
He knew it was time to move on when he reached a point where his attention was divided. He wanted to give more focus to the side-gig but knew if he did, he would be doing a disservice to his full-time job.
When you reach this point, Warwick has this advice for you, don't quit cold turkey. Line up your ducks first.
Have some savings – He recommends six months.
Know that even if the business fails, you can get another job.
Pay off your bills.
Stop spending on credit cards.
Lead generation
As an account manager, Warwick is used to cold calling to generate leads, but in preparation for launching his business, he is creating a list of accounts, clients, and potential prospects.
He plans to start with his industry and approach potential clients with different solutions he can offer and begin to grow those networks.
He recommends having a call plan and an engagement plan that includes tracking when you spoke to someone last, what you're going to do next, and of course, your goals.
Other more strategic items he is putting in place include the following.
A CRM.
A pipeline and funnels.
A LinkedIn strategy.
Facebook Ads.
"There are no shortcuts to selling. You got to do whatever it takes."
AccountManager.tips
To kick off his new career, Warwick is leveraging his experience as an account manager and launching a course titled, How to get in front of the C-Suite and Get Results. 
The course will include an outline of how to establish credibility and expertise through personal branding, how to research your client, and how to really connect and engage with senior stakeholders.
It's ideal for those people who need to make appointments with the decision makers in an organization and have strategic conversations with those in the C-Suite comfortably.
If you want to build relationships with folks higher up in companies, this course will show you how to connect, engage, and create a pitch that is going to get people interested and will get you in front of the C-Suite.
THE BEST WAYS TO CONTACT WARWICK 
Web: accountmanager.tips
Twitter: @warwickabrown