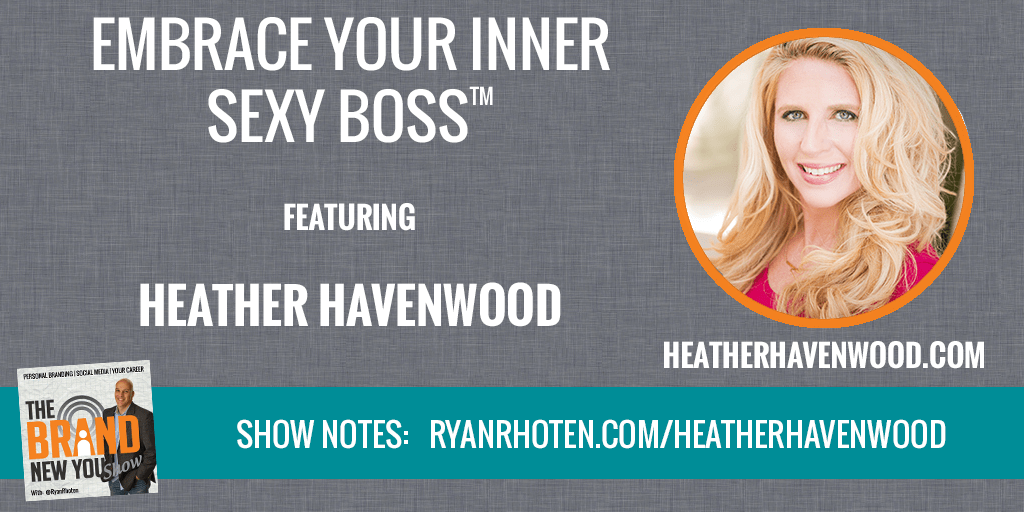 Heather Ann Havenwood is the Chief Sexy Boss and CEO of Havenwood Worldwide.
Heather is a serial entrepreneur, sales, and marketing coach, copywriter, and a small business activist.
She has been called the "Wizard behind the Curtain", because of her work behind the scenes helping start and grow online businesses including taking one business from zero to over a $1M in sales in less than 12 months.
Heather is now stepping out from behind the metaphorical curtain to educate, enlighten and empower women entrepreneurs to grow and/or start their own business so they can live a fearless and fulfilled life.
HEATHER HAVENWOOD CAREER JOURNEY
Heather started her career in outside sales with a large corporation. Despite receiving virtually no help or assistance, Heather was able to out sell her counterparts.
She eventually became the number one salesperson for the company in the country. Unfortunately for Heather, shortly after winning this award, she was fired.
As Heather was reeling from this sudden decision, one that reminds me of my discussion with Taylor Pearson, she decided she was never going to build something again that could be taken away from her that fast.
Fortunately, Heather had been diligent with her money and was able to take some time to consider what she should do. She strongly considered going back to a corporate position but every time she thought about it, she would dismiss it quickly.
It took a couple of months and an infomercial before she found her next venture.
INFOMERCIAL TO SEMINAR
"Own your own life", "Own your own business". These were the phrases being spoken by the guy on the TV screen. Phrases that totally resonated with Heather.
They resonated so much with her, she found herself the next day sitting in the crowd at a seminar listening to the speaker tell her about how she could build her own business.
Heather was hooked but had one problem. Money. Her savings dwindling and her credit card balance wouldn't allow her to buy in. Fortunately, the seminar organizers had considered this and had two tiers of pricing, one for single folks and another for married couples.
This might seem like a problem for most but not for Heather. Putting her sales cap on she was able to convince the guy sitting next to her to be her "husband" during the checkout process.
The $1K she spent that day would ultimately change her life.
In a weird twist of fate, the organizers started speaking with Heather and eventually extended her an offer to work for the company.
For the next seven years, Heather Havenwood traveled around the country learning, teaching and training people how to conduct seminars from behind the scenes.
She really was the wizard behind the curtain.
STARTED BIZ WITH A PARTNER
During her time helping to organize the seminars, Heather picked up some very valuable life and marketing skills.  Skills she still uses today in her business.
Skills such as content marketing, copywriting, presentation, direct response copy, personal branding and how to sell people into a large price point product.
Her skills enabled her to move from behind the curtain into a consulting role for other speakers. She would teach them how to present, sell from a stage and build a seminar room.
During her time as a consultant, Heather met and trained many interesting individuals. One of these individuals approached her about forming a partnership.
He brought the knowledge and expertise, Heather provided the marketing and branding aspects he needed to grow the business.
Together they were able to grow the business to over a $1M in sales within a year. As great as that was Heather would soon discover there was trouble brewing on her partner's side.
Everything boiled to the surface one day when Heather came back from a business trip only to discover that everything was gone. Bank accounts had been emptied, merchants account shut off.
There was nothing left and within a month, Heather was bankrupt.
BANKRUPTCY AND MARCO ISLAND
Like Lisa Mitchell, this time, Heather pulled back from the business.  She decided to sell everything she had left and would spend the next three years essentially reflecting.
During this time, Heather started to rely on coaches for advice and mentorship. Heather is a big fan of using coaches. Not friends or family coaches but coaches who are not stuck in your "stuff" day in and day out.
Eventually through her own reflection and the help of coaches, she got to the point where she was ready to start over again, or as she says she was ready to "build something again".
Spurred by this emotion, Heather moved to Austin, Texas, in order to surround herself with others who had a similar mindset.
Once in Austin, she used her skill set to start her first business which she still runs today.
POSITIONING YOURSELF AS AN EXPERT
Today, Heather coaches entrepreneurs and aspiring entrepreneurs to leverage their knowledge and experiences online as the go-to expert in their industry.
Many of her clients, at least initially, struggle with the concept of being an expert. Heather explains this is a mindset issue that needs to be overcome.
Many of them, maybe even you reading this right now, are looking for permission or for someone to tell them they are an expert. If this you, I'm telling you right now, you are an expert.
This is a challenge because as a society we are used to asking for permission for everything. Think back to your time in school when you had to raise your hand to ask a question or to go to the bathroom.
This is why we struggle with the idea of self-promotion. Many people view this as an "ugly" thing. Heather explains the importance of self-promotion and likens to the career of a professor.
Professors need to publish to maintain their tenure and prove themselves in order to get the word out about themselves and their university. We as corporate citizens need to be doing the same thing.
Put your thoughts out on topics in your area of expertise or your field by blogging, writing a book, etc. This is how you stand out in your field today.
THE BEST WAYS TO CONTACT HEATHER HAVENWOOD
Web: http://heatherhavenwood.com
Text the word "Sexy" to 72000 and get 3 chapters of Heather's book absolutely free.